Gabriele Amor was born in Italy and is graduate of the Art Institute in Florence. After a few years as an art teacher she started her own gallery on the island of Elba, exhibiting landscape paintings while also organising concerts and exhibitions for the island's capital city Portoferraio.
In 2012, she returned to Florence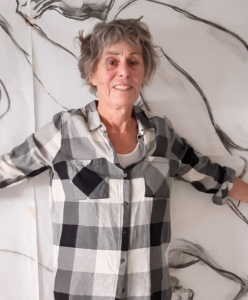 and began travelling throughout Europe and the USA. She settled in Nice, France, in 2014, and returned to art making, creating drawings, masks, and artist books. In Nice, she also began publishing limited edition books "Edition Visual Poetry" which includes poetry and printed images.
Her work
Gabriele expresses herself by creating works on paper : drawings, masks, collages.
She makes also artists books. The use of various techniques as papier froissé, collage, mono print, strip and the the writing as part of the artistic process, make them unique.
Participates in art book fairs in Europe and in Asia and collaborates with Nice and Florence Galleries.
Gabriele is a francophone poet and currently organises readings of her poems in Nice.
She edited a limited edition : Visual poetry – Déchirures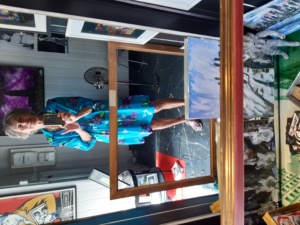 BIOGRAPHIE
Gabriele Amor est née en Italie, licenciée de l'Institut d'Art de Florence où elle enseigne pendant quelques années le dessin et l'histoire de l'Art. Elle ouvre une galerie sur l'ile d'Elbe en 2002, exposant surtout des paysages ; en même temps, elle organise des concerts et des expositions pour la mairie de Portoferraio. En 2012 elle rentre à Florence, voyage en Europe et aux USA.
Elle s'installe à Nice en 2014 et reprend son activité artistique, travaillant avec le papier : dessins, estampes ; créant aussi des masques ou des livres d'artiste en édition originale.
L'écriture est née comme un complément aux livres d'artiste, pour mieux définir l'univers de Gabriele ou ses "constellations" . Dans ses écritures, il y a le voyage cosmique et aussi la fuite sur les chemins qui mènent vers "leurs buts secrets".
Son travail
Gabriele travaille avec le papier : dessins, masques, collages, livres d'artiste.
Livres objets faits avec du papier peint, du papier froissé, collé, déchiré avec des textes qui  animent et intègrent la création artistique et souligne le caractère original de l'œuvre.
Participe régulièrement à des salons de livres d'artiste en Europe et en Asie, collabore avec la galerie librairie Rabelais et la galerie Artphotograff de Nice.
Poète francophone, Gabriele organise des spectacles poésie/musique à Nice

EXPOSITIONS
2015 Solo exhibit Gabriele Amor drawings Galerie Rabelais, Nice, France
2016 Solo exhibit Gabriele Amor drawings , Spacio Glicine, Florence
2017 Histoire de livres. Art books fair, Bruxelles, Belgium
2017 Never Read. art book fair, Basel, Switzerland
2018 Solo exhibit Constellations et déchirures (drawings)
2018 Salon Méditerranéen de publication de femmes (exhibited limited edition artists books) Marseille, Frane
2018 Art books fair Wiels Bruxelles, Belgium
2018 Salon de livres d'artistes Châteaubriant, France
2018 Festival du livres d'artistes Louvain-la-Neuve, Belgique
2019 Solo exhibit Visual Poetry artist books and collages, Galerie Rabelais, Nice, France
2019 Unfold, Shanghaï, China
2019 Minipresse, Mainz, Germany
2019 VABF Vienna, Austria
2020 Collages/Masques, LuxArt Gallery, Nice, France
2020 Expo Collective "Baudelaire" Librairie Rabelais, Nice
2020 Expo Collective "Impressions surréalistes" Librairie Rabelais, Nice
2021 Salon du Livre Spirituel – Menton (France)
2022 Expo Collective "Lumière" Librairie Rabelais, Nice
2022 Expo Collective Galerie Renaissance Cannes
2022 collective "kaleidoscope" Librairie Rabelais, Nice